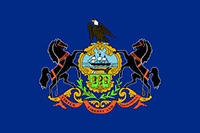 Culinary Employment Trends in Pennsylvania
Pennsylvania Culinary Jobs, Employment and Salary Trends, Job Opportunities; Culinary Schools and Colleges in Pennsylvania 
Overview of Culinary Careers in Pennsylvania
The name "Pennsylvania" generally evokes the image of old America, where everyone knows the Liberty Bell, the American flag and the Declaration of Independence were born. But people also dream about the state's iconic food items like cheesesteaks, soft pretzels, hoagies and roast pork. Even more well known might be the Pennsylvania Dutch cuisine, riddled with apple butter, chicken and waffles, sauerkraut and shoofly pie. But the state, with an eye toward the future, has been one of the first to join the farm-to-table effort, a concept influencing the use of fresh, local and seasonal ingredients. Keeping this endeavor top of mind, restaurant owners and their chefs are able to continue to serve quintessential staples of Pennsylvania food while maintaining sustainability and creating healthy, delicious, innovative fare.
Pennsylvania proudly houses eight of the 100 Best Restaurants in America including one in the top 10: Vetri in Philadelphia (according to OpenTable):
Joseph Tambellini, Pittsburgh, PA
Laurel, Philadelphia, PA
Talula's Garden, Philadelphia, PA
Vedge, Philadelphia, PA
Vernick Food & Drink, Philadelphia, PA
Vetri, Philadelphia, PA
Volver, Philadelphia, PA
Zahav, Philadelphia, PA
Philadelphia is undoubtedly not only the biggest city in the state, but the largest culinary city. Named #9 in Thrillist's list of The 40 Biggest US Cities, Ranked by Their Food, Philadelphia continues with its traditional classic foods, such as cheesesteaks, hoagies and water ice. But due to the farm-to-fork movement, chefs regularly to update food items with imagination. Using garden-fresh, local ingredients forces a menu change each season.
The city of Pittsburgh was recently named #1 (!) in Zagat's list of The Top 17 Food Cities of 2015, due to its newer, inventive dining establishments. The city's time-honored food includes gigantic sandwiches on Italian bread loaded with meat, cheese, tomatoes, cole slaw and fries. Pierogies make their appearance throughout Pittsburgh due to the city's Polish heritage. But Pittsburgh is also serious about the farm-to-table crusade, even hosting its own website: Farm to Table Pittsburgh.
Pennsylvania's agricultural scene produces such a range of commodities that aspiring cooks and chefs can't wait to work with the palette of food they'll have at their disposal. From a heavy output of livestock and livestock products, to eggs, a huge mushroom supply, corn soybeans, wheat, oats, corn, potatoes, tomatoes, beans and cabbage, the raw materials are at hand for any recipe.
The fruitful culinary environment provided by Pennsylvania offers the typical aspiring chef:
work at a variety of service levels, ranging from roadside stands to fairs to fine restaurants. 
a number of ethnic cuisines to experiment with.
jobs in a field expected to grow by 0.7% over the next year. Over the next ten years, restaurant cook and food service supervision jobs are expected to grow more than 10%.
an average salary for Pennsylvania cooks that is ranked 27th in the nation.
Pennsylvania employs 161,640 culinary professionals, the sixth-highest number employed in any of the top 10-populated states. The number comprises food service managers, chefs and head cooks, food service supervisors, line cooks, bakers and bartenders throughout the state's cafés, hotels, bars and other food venues. The availability of positions allows professionals to work at more than one type of job at a time. Some might opt to serve breakfast to seniors in the morning, cater a party during the day and cook at the latest popular restaurant at night.
Employment and Salary Trends in Pennsylvania
As stated above, Pennsylvania employs 161,640 food workers, according to the Bureau of Labor Statistics (BLS). The industry sees quite a bit of mobility among the different jobs. As they gain experience, chefs take advantage of the open market to advance to management roles.
Pennsylvania chefs, cooks, bartenders and their managers earn an average of $28,178 per year. But as you'd expect, there is quite a bit of variability among job types and employees. 
Food service managers tend to earn the most with an average salary of $56,200 (BLS May 2015 Data), which is down from $58,190 a year ago (BLS May 2014 data). Pennsylvania food service managers' salaries rank 17th among the 50 states, ahead of North Dakota and behind Texas. The top 10% of food service managers earn over $90,000, well above the average. Food service managers also have the most wage variability.
Chefs and head cooks earn the next highest average salary of $47,590 which is up from $43,620 a year ago. The top 10% of chefs earn a lot more than the average, at over $72,000 per year.
Restaurant cooks' salaries rank 27th in Pennsylvania among the 50 states, ahead of Arizona and behind Virginia. Chefs and head cooks' salaries rank much higher nationally at 12th, ahead of Delaware and behind Colorado. Experienced cooks, at the top 10% of the pay scale, earn almost $34,000 per year. Generally speaking, most Pennsylvania culinary jobs exceed the national average salary within their categories.
Culinary Job Opportunities and Employers in Pennsylvania
Given the nature of the work, there are not many restaurants in Pennsylvania that employ hundreds of culinary professionals. Instead, most food service locations will employ a relatively small number of chefs, cooks and food service managers. That said, there are a broad range of employers available, which include:
Restaurants and Bars
Hotels, B & Bs and Lodges
Schools
Hospitals
Private companies and individuals looking for private chefs
The State of Pennsylvania maintains a database of jobs through the Commonwealth of Pennsylvania, at www.jobgateway.pa.gov. You can search by job title and location. Employers offering numerous food service jobs are retirement facilities, hotels and restaurants.
Culinary Training, Schools and Colleges in Pennsylvania
Those aspiring cooks and chefs not interested in formal education will start at a young age with on-the-job training. This decision means settling for level-entry jobs like dishwashing or securing unpaid internships, but learning the business from the ground up is what is important, and restaurant managers wearied by high turnover welcome the extra help.
Still numerous other would-be culinary professionals opt for formal training and find a nice selection of programs through Pennsylvania's panorama of culinary arts, baking and pastry or hospitality management schools. Aside from the state's inspiring food and restaurant scene, she provides dozens of culinary schools and programs, some with degrees awarded. However, not all schools provide the same culinary education, with cost, programs, graduation rates and more varying by school. A few of the better known Pennsylvania culinary schools include:
Drexel University, in Philadelphia, Pennsylvania
JNA Institute of Culinary Arts, in Philadelphia, Pennsylvania
The Art Institute of Pittsburgh, in Pittsburgh, Pennsylvania
Community colleges throughout the state with culinary training programs